EVENT DESCRIPTIONS:
*FOR DETAILED EVENT INFORMATION PLEASE FOLLOW 'BOOK NOW' BUTTON!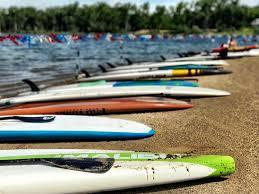 Curious about which board might be the best for you??  With so many paddleboards on the market and so many companies competing for your attention, it can become difficult to make knowledgeable decisions about what type of paddleboard to add to your toy chest.  These demo events are designed to let you talk to the experts about your needs and most importantly, try before you buy.  Board trials and advice are free, demo SUP Yoga classes are $5.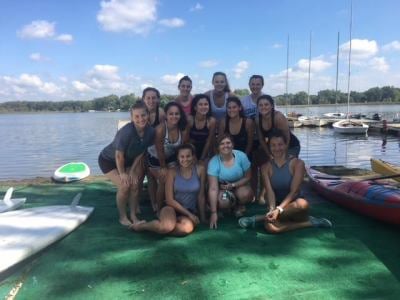 PARTIES, CORPORATE OUTINGS & SUP YOGA PRIVATE SESSIONS
Ready for a new spin on group activities at your next party, outing, special event or fundraiser?  Paddleboarding is an effective and fun way to create group harmony while enjoying our precious natural resources.  We spend enough time inside, come out and play!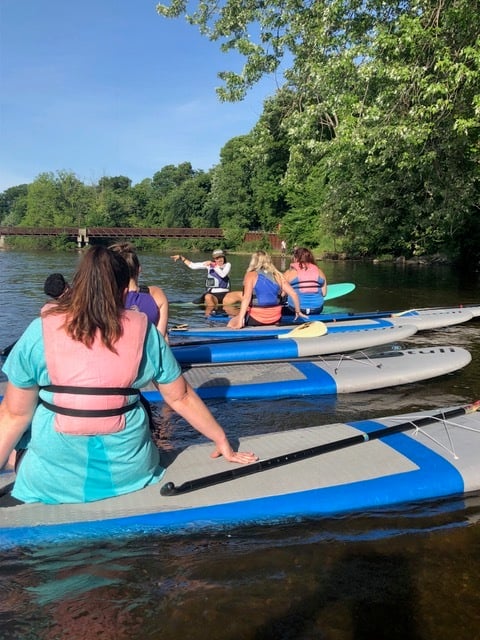 The sport of paddle boarding is the fastest growing water sport today because it has something to offer everyone!  Like a martial art, the gifts and the dangers of this practice are often overlooked by the inexperienced.  SUP 101 & 202 offers small, expert-led groups where you will learn safe, effective, and purpose oriented paddle techniques as you adventure into a variety of different waterways.  All levels welcome, approval required for 202.

STAND UP PADDLEBOARD + YOGA
Find out what connecting nature to balance is all about.  This simple progression of yoga poses and breathwork is the perfect way to explore and fine tune your SUP and yoga skills.  Every Prerana Yoga SUP Yoga class combines core strength and flexibility work that will leave you feeling energized. Great for both seasoned practitioners and brand new students to paddleboard OR yoga.  Come play in your water element and find new fluidity and stability!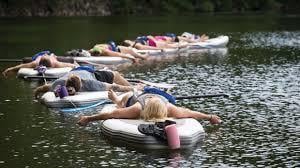 SUP YOGA TEACHER TRAINING
Prerana Yoga, The Power of Water, and The America Canoe Association have charted a path beyond industry fads to help yoga teachers and healers carry their knowledge and power onto the water.  Learn to work with your water element and become an ambassador for the environment.  This training is endorsed through the Yoga Alliance and offers 25 Continuing Education Requirements.  This program is also endorsed through the American Canoe Association and offers certification as Level 1 SUP Instructor AND SUP Yoga endorsement.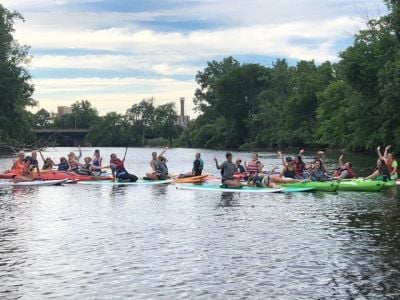 LADIES ONLY: PADDLE & WINE
Join a community of women  for an evening of paddling, gabbing, and enjoying nature... and wine!  This night is all about bringing strong and motivated women together to inspire each other, support each other and enjoy being out on the water!!  Expect to arrive early, especially if you are bringing your own paddle craft.  We will cover basic paddle safety, how to read rivers and travel safely as a group.  Stay post-paddle to sip wine and gab on the patio!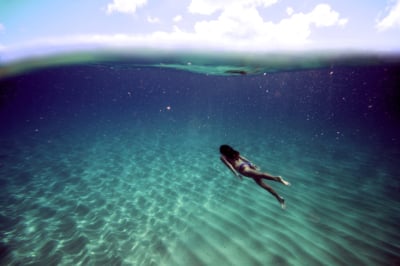 PURE MI SUP + YOGA + ADVENTURE RETREAT
Our retreat condo is located on Lake Michigan in the Homestead resort and spa of Glen Arbor. We are minutes from the famous Sleeping Bear Dunes lake shore and surrounded by wineries, shopping and fairy tale natural areas which you will get to explore via paddle board!! Adventure packed but leisurely and at your pace, this weekend is the perfect way to wind down your summer, learn or perfect paddle board technique and absorb the good energy that comes with playtime, nature, and good company!